Common Errors and Solutions
When the boot loader appears, attempts to connect, then immediately disconnects and closes, a common cause is that the client files are too far out of date. Be sure to open up PlayOnline Viewer and verify that your client files are at least as new as those used by the server. You can see the current server version here.
Other potential causes:
Your Visual C++ (MSVC) components are out of date (see below)
DirectPlay is missing (see below)
Visual C++ (MSVC) Components are missing
If you don't have the Visual C++ Redistributable Packages installed, you'll need to install them (this isn't very common since almost all games use these).
There are many different versions of these packages. Final Fantasy XI, Ashita, and Windower require the MSVC 2015 version.
You can download them from Microsoft at https://www.microsoft.com/en-ca/download/details.aspx?id=48145.
DirectDraw/DirectPlay is Missing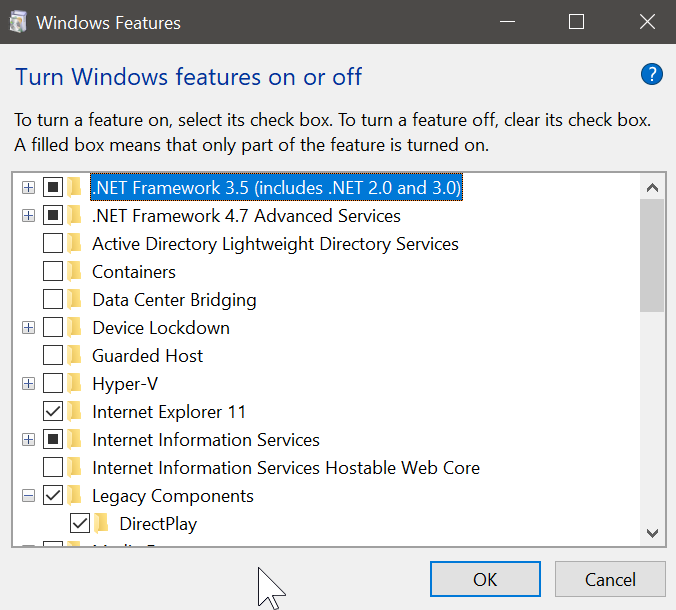 In Windows 8 (?) or higher, you'll need to enable DirectPlay in the Windows Features dialog. For new players/installations of FFXI, this setting almost always needs set as the default installation of Windows doesn't include this legacy feature.
Open Add or Remove Programs.
Click to open Programs and Features.
Click to open Turn Windows features on or off.
Scroll down to Legacy Components and click the checkmark for DirectPlay.
Click OK
You will need to restart your computer after the installation.
Attempting to dual box randomly causes the client to crash
Unfortunately, FFXI doesn't handle dualboxing on DSP very well.
Try not running the clients as administrator to reduce the chance of crashing.
Be sure that one character is fully logged in before attempting to start a second character.
Launching causes a crash or "failed to initialize instance of polcorecom"
If you're running an EU version of the client, this can be caused by Ashita or Windower not properly detecting your PlayOnline Viewer locale.
Ashita
In Ashita, add the following:
In your server connection string, add --lang eu to the very end of your --server line.
In the connection settings, change your language to one of the EU languages.
Windower
In Windower, change the following settings by editing your settings.xml file.
Update or add the key for <region>EU</region>.
Update the <args> key to include --lang eu to the very end of your --server line.
Logged in, but cannot see UI, chat boxes, macro bars, etc.
Verify that the resolution you've specified in Ashita or Windower's configurations align with those of your monitor.
It's recommended to play in Windowed (with Show Border enabled) or Borderless Windowed mode.
"Error 10092"
Verify that your /data directory has been copied from the PlayOnlineViewer folder into the FINAL FANTASY XI folder. See step 10 here.
FFXI-3322 when signing up
The FFXI-3322 is a client-side error that you can receive at signup. This is caused by a character name violation. Unfortunately, the naming rules are handled by the local client, not by the servers and we do not have any control over this.
We've found that romanji letter combos that translate to swear words in Japanese tend to be caught by this frequently, even though they're harnless in other languages.
POL-0001 when trying to log in
A POL-0001 is caused by a core DSP bug (that's existed since 2014) that pops up when you have more than 5 characters on a single account. Please keep it to 4 characters per account (you can create as many accounts as you like on Nocturnal Souls). If you receive this error, please contact a GM for assistance.
Bug details at https://github.com/DarkstarProject/darkstar/issues/497.
POL-0033 when trying to log in
A POL-0033 is caused by the system thinking your account is still logged in. You can wait a few minutes, or use the Members Portal to "unstuck character."
"Downloading Data" then disconnect when selecting a character
Verify that you don't have any plugins that could be causing a glitch. The following plugins are known to cause this issue for some players.
Windower: xivbar
Windower: enemybar
Windower: giltracker
Windower: weathermon