Custom Augments
Looking to take your gear to the next level? Our custom augment NPC helps you meet those challenges head-on.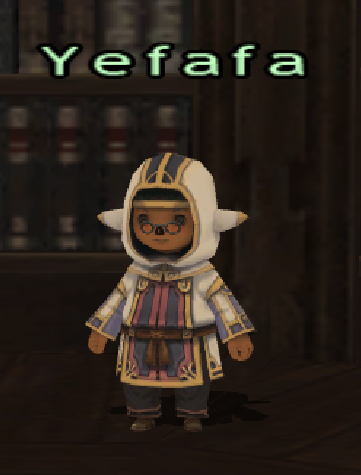 The Basics
Since Nocturnal Souls has base stats bumped up a bit, the augments focus on secondary stats that are usually hard to come by like dual wield, haste, triple attack, and fast cast.
Location: Yefafa in the Western Adoulin (visit by using the !relax command)
Each piece of gear can have up to 4 augments.
Trade Yefafa your gear piece and up to 4 augment recipe components.
You can mix and match augment tiers assuming you have access to the tier.
WARNING: Attempting to augment an already augmented piece of gear will REMOVE the prior augments.
WARNING: You can augment non-gear. Don't do that. It's silly. Yefafa will augment whatever is NOT an augment recipe component in your trade.

Trade a rabbit hide and a drachenfalls water and you'll end up with a worthless, but fast casting rabbit hide.

WARNING: +DMG augments only affect main hand weapons, not off-hand or ranged weapons.
WARNING: You cannot augment items with "usable enhancements", such as the destrier beret and chocobo shirt.
To trade in or sell an item, you'll need to remove the augments first. You can remove an item's augments by trading the item and 100,000 gil.
Augment and Stat Caps
Just because you can, doesn't mean you should.
Some stats have soft and hard caps and overaugmenting these stats will not provide any additional benefit. When augmenting, be sure to take your gear, traits, aftermaths, and other effects into consideration when building your sets.
The following augments have hard caps:
In addition, there are soft caps to stats such as accuracy, attack, spell interruption rate, etc. Take a look at the recommended augment values for end game to get an idea where your stats should land.
Finding the perfect stat balance is key. Remember–a dead damage dealer is a no damage dealer. Don't forget those defensive augments!
Augment Recipe List
Trade one of each unique augment (an augment is made up of both the correct item and correct quantity) for the result.
You can farm the materials on your higher level jobs and power through with augmented gear on lower level jobs. There are no level restrictions the gear you can augment; however, some augment tiers require special conditions to be met.
Some auguments are also rare/ex and/or players cannot acquire more than one at a time (e.g. Tahrongi Cactus). This is by design due to either the augment tier being a lower level and/or the augment being exceedingly powerful.
Tier 1
Access requirements: None
Tier 2
Access requirements: Requires nation rank 2 or higher.
Tier 3
Access requirements: Requires nation rank 5 or higher.
Tier 4
Access requirements: Requires Tier 3 access plus Rise of Zilart mission 13 (The Gate of the Gods, Tu'Lia unlocked) or higher.
Tier 5
Access requirements: Requires Tier 4 access plus Rise of Zilart storyline complete (Awakening) and Chains of Promathia Chapter 1 complete (Tavnazian Archipelago unlocked).
Due to the power of the Store TP augment, the Tahrongi cactus can only be picked up one at a time. Players wishing to have multiple Store TP augments can pick up one, augment an armor piece, and then pick up another and augment another armor piece.
Tier 6
Access requirements: Requires Tier 5 access plus Chains of Promathia Chapter 7 complete (The Warrior's Path, Al'Taieu unlocked).
Tier 7
Access requirements: Requires Tier 6 access plus Chains of Promathia storyline complete (Dawn).
Tier 8
Access requirements: Requires Heroics rank 5 or higher (access to Escha Zi'Tah).